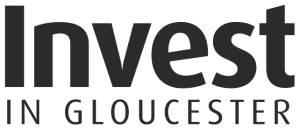 Public and private sectors have come together to launch Gloucester's ambitious £20m City Centre Regeneration bid to the government's Levelling Up Fund.
Gloucester MP Richard Graham, in signing off on the bid, said that the pandemic had been tough on small city centres. "The three projects earmarked for support will (if successful) transform perceptions of our City Centre, by delivering the first time ever Higher Education courses in Gloucester City Centre (from the University of Gloucestershire takeover of the ex Debenhams building), our first 4 star hotel (The Fleece) and a new digital innovation hub (The Forge) for eg cyber businesses".
"The combination of 4,700 university students, a 60 bed boutique hotel and a cluster of cyber secure start ups will good for jobs, education, growth and culture. And there will be widespread social benefits from a public Well Being Centre and a new library in the UoG building. Urban regeneration is about individual skills and health as much as restoring buildings."
Councillor Richard Cook, leader of Gloucester City Council, said: "The Levelling Up Fund is a huge opportunity for Gloucester and will help create a city that both brings alive the past and makes us fit for the future. By working together with different partners (Dowdeswell at the Fleece and Reef plc with The Forge) our bid is acting as a catalyst for private sector development alongside the public sector investment from the Uni of Gloucestershire."
The former Debenham's building will be the first in the country to be converted for academic use and will also become home to community use spaces. The University expects it to bring 4,700 students to the centre of Gloucester's community.
Stephen Marston, Vice Chancellor of the University of Gloucestershire, said: "The development of the Debenhams building will place the University of Gloucestershire at the heart of its community, breathing new life into a much loved but dilapidated building, and creating a vibrant centre of new activity in the city centre. We are confident that it will serve as a role model for other city centres."