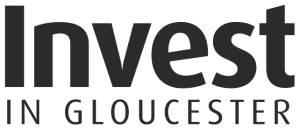 King's square will provide an inspiring and engaging space for the public to visit and relax, available for events and entertainment as well as outdoor dining and markets. Features in the new square will include sweeping granite seating areas alongside fountains, trees, and atmospheric coloured lighting. The design concept takes inspiration from the Severn bore – a spectacular tidal surge that occurs along the nearby River Severn. It is the first phase and the centre piece of the much larger Forum development – see above – and is a key part in the regeneration of the King's Quarter part of the city centre.
Take a look at drone footage of the development of the Square at:
Drone video shows regeneration of Kings Square in action - Gloucester City Council
April update: Redevelopment of the square is nearing completion and Gloucester based developer, E G Carter is aiming to open officially on the 30th of April. Over the course of the day the public can take part in free circus skill activities, as well as watch hip-hop dance groups and performances from Strike a Light and Avant Garde in the evening.  A programme of cultural events and family activities is also planned on the square for the remainder of the year
Prospective investor or development opportunities
For more information, questions or anything else, please get in touch...